If your organization has purchased ADVANCElive you will see a yellow ADVANCElive logo on the blue menu bar. Once you click on ADVANCElive your user rights will determine what you see.
If you are participant you will see My meetings and My trainings. As a participant you cannot schedule meetings or trainings.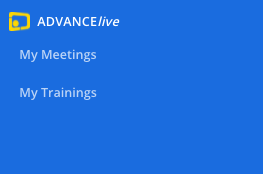 If you are a facilitator once you click on ADVANCElive logo you will see my meetings, my trainings, manage meetings, manage trainings, and reports. You can schedule a new meeting or training by going to the green +CREATE button in the top right hand corner..